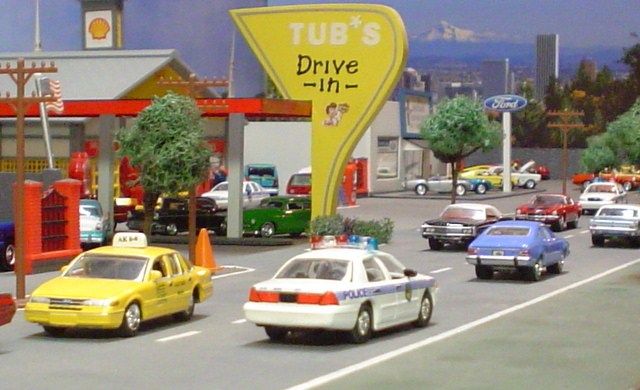 Welcome to Diecast Fun !!! If you love, enjoy, and collect diecast cars and trucks, this is a site you will wanna check out It also involves plastic model kits. Here's a great way to enjoy this hobby!!!
*Updated 12/05/16
*** Due to (still) a little constant reorganizing on this photo site, and alot to due with my lazy rear~end, some of the photos have been temporally deleted... As soon as we have the photo files organized, photos will be replaced with labels and descriptions added !!! ***
Please excuse the mess... I am constantly updating this site...The counter has been reset for the new visitors. There are lots and lots of new pics and pages to view, but they all haven't been labeled yet. As I progress I will post tips, tricks and information to having fun with your collection along with ways and ideas to enjoy this hobby to the extreme. I will be back very soon !!!
Warm and sincere Holiday Wishes to all fellow diecast collectors out there!!!
This site is about having fun with your diecast cars and trucks. I have collected diecast cars since about 1963, a span of over 50 years and have enjoyed every minute of it. My collection now consist of over 10,000 diecast cars, trucks, and even a few airplanes, and several plastic model kits. I collect all scales and brands. I have built a huge room I call my toy room which you can view some nice photos on the "Toyroom" and "New Toyroom" page. I began building dioramas about 20 years ago in which I handcraft most of the buildings and accessories you will see through out this site. So come on in, sit back and enjoy the view. I will try to cover as much as I can from past to present. Plan on spending some time because there are lots and lots of photos to view !!!
There is a "GREAT" diecast discussion site I would love for you to check out and join up. It's all free and loads of fun. You can display and share pics of your collection an well as enjoy others. Exchange tips and tricks of diorama building and customizing these little cars. Meet many super nice people from all corners of the world. Here's the link:
www.swiftysgarage.net
Copy and paste this into your address url and get busy having a great time !!!
Great Diecast Websites

I have been a member of several diecast websites for quite awhile now. I have gotten acquainted with several great people all around the world. By joining these sites, I also have acquired so much information and knowledge on new releases, vintage diecast, customizing, tips and tricks, clubs and club cars, and even events and shows happening all over the United States and other countries. I have links posted throughout this site by clicking pics and on the "Diecast Discussion" page. Be sure to check each and everyone of them out. Jump in, Buckle up, Hang on, and plan on spending some time !!!
Seller stangfreakGT and Stangfreak's Diecast Fun Ebay Store
Visit my Ebay auctions and Ebay Store by clicking the link above. The seller list changes from week to week.

You can warp right to my Ebay auctions and Ebay store to find many diorama and customizing pieces. Also many exotic and hard to find diecast cars and trucks, new in the pack and loose. Customs listed now and then also. New listings all the time... Check it out !!!
Seller stangfreakGT ~ Diecast Fun
A new Diecast Facebook Group site to check out... Diehard Diecast Nuts:
www.facebook.com/485448954839101/
Watch the lights on the X-mas tree start the car into a wild burn-off !
I have added three new pages of great customs. Some completely disassebled and stripped down, wheel swaps and repaints. Others with just simple wheel swaps. These will be interesting pages for all you customizers !!!
stangfreakGT Ebay Auctions